Mediation In Edwardsville
What is Mediation?
Mediation is a cooperative, confidential, process available to families facing a dispute who want to maintain control over the decisions that will be made regarding their family's future. In mediation, the Mediator explains all available options and helps disputing parties resolve potential conflicts without stepping foot in the courtroom.
The Mediator's job is to work with both parties to reach agreements which meet both parties' top priorities. When agreements are reached in mediation, the Mediator drafts up the legal paperwork necessary to enforce those agreements.
Why Mediate?
Mediation saves time, money, and your children.
Saving Time: Mediation moves at the client's pace and usually takes about two months to complete with 4 or 5 mediation sessions, instead of 1 to 2 years of fighting in court.
Saving Money: Mediation can be completed for a fraction of the cost of a litigated family law case. Often times, the entire fee for mediation is less than an individual retainer fee in a divorce case.
Saving Children: Mediation protects the emotional well-being of children by keeping them out of the middle. Parents learn not to fight in front of children or make them choose sides. Parents learn how to problem solve and make good joint decisions about the children. Parents learn to distinguish the differences they may have had as husband and wife from the roles they will continue to play as mother and father. This helps stop the fighting, which benefits the whole family.
"Without question, the single biggest problem for children of divorce is being exposed to  continuing parental conflict." Edward Teyber. Helping Children Cope with Divorce. San Francisco: Jossey-Bass (1992), p. 79.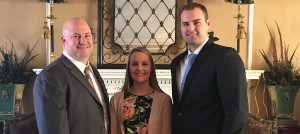 Dustin Maguire (right) is certified with the Illinois Supreme Court as a Family Law Mediator*. Dustin often works with both sides during family law disputes to reach a resolution before a case ends up in court. As a Mediator, Dustin remains neutral in helping parties reach mutually beneficial agreements, providing legal information as opposed to legal advice. Dustin mediates family disputes including:
Child Custody (Parental Responsibilities)
Visitation (Parenting Time)
Child Support
Divorce
Property Settlements
Maintenance
When agreements are reached in mediation, Dustin prepares the necessary court documents to enforce those agreements. Dustin's work as a Mediator is focused on saving children from experiencing litigation within the family.
Read more about Dustin's work as a Mediator from the Edwardsville Intelligencer.
*Mediators are certified with the Illinois Supreme Court after completing a 40-hour mediation training course following law school. As a mediator, all discussions in my presence are confidential and will never be used against either party. For this reason, after serving as a mediator, I cannot represent either party if a case goes to court.